FARM IN TUSCANY
Farmhouse in Tuscany: typical products, Chianina breeding
If you wish to spend an unusual holiday- a stay characterized by serenity, peacefulness, culture and impressive sceneries- then welcome to the Orcia Valley, one of the most typical valleys in Tuscany. It's just here that time seems to have stopped and so you will certainly feel at ease in our ancient farmhouses, where you can also taste our genuine wine and wholesome products.

The Rappuoli family, originally from this region, has been passionately tilling the soil for more than a century, carrying on this tradition from generation to generation. Furthermore they will be happy to show you "i lavori della terra" such as treshing in June and July, ploughing and grape harvest in September as well as sowing in October.
The farmhouses are situated in one of the most ancient and important monastic areas in which still lie both "Pieve di S.Piero in Campo", dating from the XI Century, and "The romanesque consecrated Church" .
Regarding the cereal gowings, hard wheat, sunflowers ,etc ,alternate depending on the different seasons (ploughing,sowing or harvest) changing the colours of the countryside from brown to green and from green to yellow and gold.

The family also raises calfs, particularly the valuable "Razza Chianina" , from which the famous "Fiorentina" steak is made. The "Cacciamici" and "Podere Conte Ugo" family-run farmhouses , offer you to taste the well-known "Fiorentina" steak accompanied by excellent genuine wine and typical homemade "Tagliatelle" or "Pici" in the extraordinary dining room with a stunning view over the valley.

Both farmhouses, immersed in the middle of the Orcia Valley, offer a 360° view all over the sienese hills and are surrounded by several medieval towns such as Borgo di Castiglioncello sul Trinoro, the impressive Radicofani Tower and the vulcanic Amiata Mountain.

The openspace surrounding the two farmhouses allows you to relax under the gazebo's shadow and enjoy the swimming pool.
The apartaments, furnished with typical ancient furniture, still keep their original ceilings,thick walls and stone arches.
The turistic areas around the farmhouses are Rocca d'Orcia,Pienza,Montepulciano, Montalcino, Siena, Monte Uliveto and S.Antimo Abbeys, Bagno Vignoni, Bagni San filippo and S.Casciano dei Bagni Thermal Baths.
Furthermore, you can also visit the Etruscan Tombs and the archaelogical museum of Chiusi.
OFFERS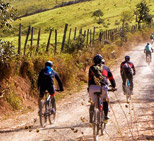 At the moment there aren't any special offers 'last minute'.
Visit anyway our web site, where you can find some suggestions for your vacancy.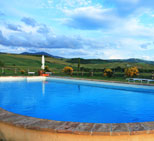 Farm-house Conte Ugo is located in one of the most beautiful, yet less known areas of Val d'Orcia.
Website
PER POTER VEDERE IL WIDGET DI TRIPADVISOR DEVI ACCETTARE L'UTILIZZO DEI COOKIE DI TERZE PARTI PER QUESTO SITO
Errore nella queryThe most important entertainments of Val d'Orcia and surroundings